Stay Back Stay Alive
Mn/DOT stresses snowplow safety with its "stay back, stay alive" winter safety campaign that encourages the traveling public to give snowplow operators a wide berth. A decline in the number of snowplow roadway crashes indicates that this safety message is resonating with the public. The number of snowplow roadway crashes caused by Mn/DOT employees and the public dropped to 76 last winter, down from last year's crash count of 100. Crashes involving snowplows were down 24 percent from last winter.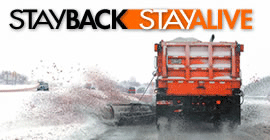 Safe driving means:
Check road conditions at www.511mn.org or call 511; it takes time to get roads back to good driving conditions.
Be patient and remember snowplows are working to improve road conditions for your trip.
Stay back at least five car lengths behind the plow, far from the snow cloud. Snowplow operators will pull over when it is safe to do so to allow traffic build-up to pass.
Stay alert for snowplows that turn or exit frequently and often with little warning. They may also travel over centerlines or partially in traffic to further improve road conditions.
Slow down to a safe speed for current conditions. Snowplows typically move at slower speeds.
How Can Homeowners Help During The Snow Season?
When the snow flies, Minneapolis Public Works has an enormous task. The city has more than 1,500 miles of streets, parkways and alleys. It's up to Public Works crews to make these thoroughfares as drivable as possible.
Use Driveway Reflectors
When marking driveway openings along a roadway with reflectors, follow these guidelines:
Select reflectors that are at least three inches wide
Use double-sided reflectors and position them so they can be seen from both directions
Place reflectors at least 12 feet away from the outside edge of the shoulder
Put reflectors no higher than five feet above the ground.
Do not place reflectors on mailboxes or permanent posts
Blue is the preferred color, but colorless (white) reflectors are acceptable.
Do not use red or yellow reflectors because drivers may confuse them with motor vehicle lights.
Some stores carry reflectors already attached to a long wire rod that can be pushed into the ground. These are acceptable.
Clearing Your Driveway of Snow
Remember To Shovel Your Sidewalk
Sidewalks are a critical part of our city's transportation system. That's why it's important for homeowners and businesses to keep their sidewalks shoveled.
When you shovel snow and clear ice, shovel the sidewalks on all sides of your property, the full width of the sidewalk down to the bare pavement. Remove all ice from sidewalks. Remember, you are as responsible for clearing ice on your sidewalk as clearing snow. Ice can be more dangerous and intimidating than snow. The sooner and more completely you shovel, the less likely ice will form. After the sidewalk is clear, sprinkling a little sand can help prevent slipping on frosty sidewalks.
Plan Ahead for Snow Removal
Depending on where you live and how much snow you are used to getting, your needs for hiring snow removal might vary. Some people may do just fine breaking out the old snow shovel themselves or paying the kid down the street a few bucks to do the job, but there are many situations where neither of these options is convenient. If your area typically gets a lot of snow or even if your area gets a few heavy snowfalls per year, you may want to consider calling for professional snow removal.
Never Shovel Your Sidewalk or Driveway Again
Parking lot and sidewalks icy!!??  Call Lawn Care Company!! Crews and trucks are out in your area, salting and sanding.  Don't take the chance of an injury or even a lawsuit!!  We provide prompt, dependable snow clearing of sidewalks, driveways, and parking lots, as well as sanding and salting of parking lots.