Minnesota Underground Irrigation Systems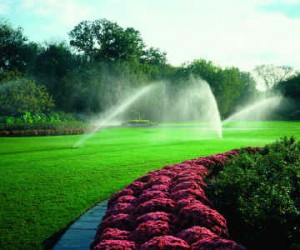 Most people are amazed at how reasonably priced underground irrigation systems have become, and how much time, money and aggravation they can save.
The equipment we use to install the water lines is so good that 5 minutes after we install the lines you cannot tell where they have been buried. Every system we install is designed specifically for your property and operated from a central control panel in your home. This allows us to divide your property into zones, giving you the flexibility to water specific areas, at specific times. If a particular area does not require as much water as another, our underground sprinkling systems permit you to accommodate the situation, thus saving you money and conserving precious water. Timers provide you with the luxury of watering your property even when you are not present.
We carefully select the appropriate sprinkler head for each watering zone, and then precisely adjust each head to reach only the required area, which, among other things, means you will never again waste water on sidewalks, driveways and streets.
Once we install your automatic sprinkling system we are certain you will never own another property without one again!
If you currently have an underground sprinkling system we would be more than happy to provide you with any service you need. All underground irrigation systems need to be winterized in the fall, and they should be inspected in the spring before they are operated. These are all services we provide, as well as any repair or adjustments your system might require to keep it operating at maximum efficiency.
So give the irrigation experts at the Lawn Care Outdoor a call for a FREE consultation and estimate to prove how reasonably priced an underground sprinkling system can be! Contact us today!