Minnesota Professional Fertilizing Service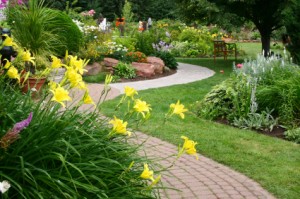 Our lawn and garden fertilizer programs are scientifically designed to nurture the plants you want to thrive, while controlling weed growth and creating an environment in which harmful diseases and insects do not want to live.
The Lawn Care Outdoor's fertilizer specialists will examine your lawn and gardens, assess the health of your plants, measure thatch depth, note any weeds, insects or diseases that might be present, and do a soil analysis.  Based on their findings, they will create a fertilization program to provide the nutrients necessary for your lawn and gardens to flourish.  They will then review the plan with you to explain what they are doing and why they are doing it.
Over time, as the plan is implemented, you will watch your lawn and gardens grow thick, strong and healthy, providing the rich deep colors you always wanted.
The Lawn Care Outdoor would be more than happy to meet you for a FREE consultation and estimate on a fertilizer program for your lawn and gardens. Contact us today!